How is Silica Gel Bracelet Made?
1. The production of silicone bracelet
The silicone bracelet is made of 100% natural solid silicone rubber pressed by a hydraulic machine; the adjustable silicone bracelet itself has a certain degree of support and flexibility, so it is very easy to deform and repair immediately; the silicone bracelet is wear-resistant, heat-resistant, and does not deform, non-toxic, odorless, and has no side effects on the body. In addition, it has the advantages of being soft, non-cracking, and non-irritating to the skin. It is a true low-carbon and environmentally friendly decorative product.
2. Raw material processing of silicone bracelet
People began to add some functional materials, such as negative ions, germanium, titanium, and far-infrared rays, to the raw materials of adjustable silicone bracelets to carry out production and processing, so that it has a certain health care effect and is more popular among consumers. If you want to purchase custom rubber wristbands bulk, please contact YP Promotion. Our company can provide many different kinds of bracelets, such as yellow rubber bracelets, purple rubber wristbands, personalized glow in the dark wristbands, etc.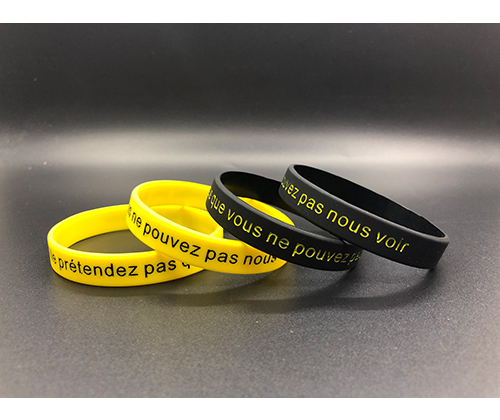 3. The development of silicone bracelets
A large number of silicone bracelets are connected with various organizational activities, brand promotion, fitness sports, etc. A good design plan can convey long-term practical significance. In the past 2004 and 2005, many successful applications have been seen: the classic inspirational silicone bracelet of KFC, a bigwig in the catering industry, is a very successful application, and there are also clothing brands such as Puma and Nike. Custom promotional gifts are popular in the world.
Silicone bracelets with a variety of fluorescent, luminous, and various colors are soft, non-deformable, non-toxic, non-cracking, and anti-wear, heat-resistant, long-lasting, non-irritating to the skin, and fashionable. In addition to the decoration design effect, it can also play the role of diagnosis and treatment, health care, and mosquito prevention. An adjustable silicone bracelet is mainly used in various entertainment platforms and sports venues. It can be used as gifts, memorials, promotional gifts, etc. It is a popular fashion trend decoration; it is also a low-cost, high-efficiency advertising and promotional gift. The vast majority of fitness sports hand straps do not have all specific main uses and are only used as fashion accessories. The English words or phrases on this kind of hand strap generally reflect the confidence and values of the wearer.
The above explained is the production method and development of silicone bracelets, I hope it will be helpful to you after reading it. If you want to know more about silicone bracelets, you are welcome to continue to pay attention to our YP PROMOTION, we will regularly update the knowledge about silicone bracelets.
Related Blog