Selection Skills PVC Key Chain
In our lives, many people will use PVC keychains, which can provide our keys with good storage convenience, so rubber keyrings are widely used by people. However, there are many types of PVC keychains on the market. We need to pay attention to a lot of things when choosing. Only by paying attention to these can we ensure that the selected PVC keychain meets our requirements. Then what do we need to pay attention to when choosing rubber keyrings?
1. Material selection of PVC keychain
When buying a PVC keychain, the most important step is to see if it emits an unpleasant chemical smell. Certain industrial materials are needed in the manufacturing process, which can't help but smell a bit, but even if it is a subtle smell, it will disappear when you take it out and blow it. If you use good raw materials, the smell of the rubber keyrings will not be so obvious. Products made of inferior plastic must be given a bad review, because these inferior items may also endanger the health of the body.
As a reliable rubber keyring manufacturer, YP PROMOTION is dedicated to providing you with high-quality custom rubber keyrings. Please send us your requirements.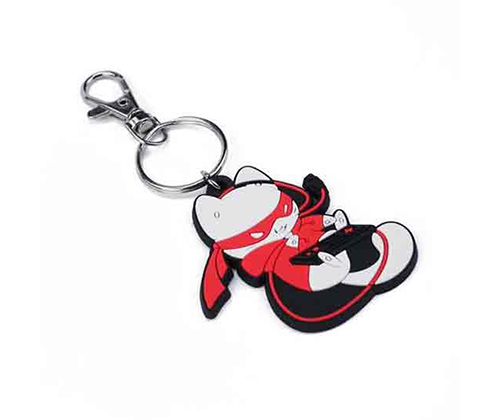 2. Shape selection of PVC keychain
The purchase of PVC keychain shape mainly depends on the customer's preference. You can choose which type you like to buy. You can even customize your favourite type or plan a unique one yourself. Then see if there is anything wrong with the colour of the PVC keychain produced and your ideals. However, it is generally better to choose glue manufacturing. The glue system is also divided into an environmentally friendly glue system and a non-environmentally friendly glue system. It is best to choose an environmentally friendly glue system to contribute to the environmental protection work.
If you want to buy custom logo products no minimum, please contact YP PROMOTION. As a professional rubber keyring manufacturer, there are many other kinds of promotional products that we can provide, such as custom acrylic keyrings, yellow rubber bracelets, basketball silicone bracelets, and promotional hard enamel pin badges, custom PVC labels, etc.
3. Price selection of PVC keychain
Regarding the price of PVC keychains, in general, keychains are very cheap in the market, but this is for plastics. Metal processing and manufacturing are more expensive because metal is more difficult in the manufacturing process. Naturally, these processing fees have to be accounted for, and more sophisticated ones will be more expensive. Therefore, I still feel that it is better to choose PVC rubber keychains, because the colors are more diverse and the styles are more, and the metal will definitely be uglier if it is rusted or painted off. In this way, it is better to choose PVC keychains, which are light, cheap and durable.
YP PROMOTION was established in 2011 and is a professional manufacturer of customized metals, flexible PVC, and silicone in China for more than ten years. We provide more than 100,000 kinds of products, including metal badges, silicone bracelets, lapel pins, enamel badges, PVC keychains, medals, coins, name tags, handbags, magnets, wristbands, photo frames, coasters, luggage tags, patches, Bar mats, mugs, etc., all products can accept custom designs!
Related Blog